In The News
Hip and Knee Replacements: The Latest News Wednesday, August 21
Presented by Dr. Sean Sutphen
Illinois Bone & Joint Institute
Experiencing hip or knee pain? Explore the latest non-operative and operative treatments, including robotic, minimally invasive and computerassisted surgical techniques.
Space is limited. RSVP to Kayleigh Bourbon today at (312) 515-0720 or [javascript protected email address].
Date: Wednesday, August 21
Timings: Appetizers – 5:30 to 6 pm
Presentation – 6 to 7 pm
Venue: Glenview Terrace, 1511 Greenwood Road
Click here for more infomation.
The Latest in Treatments for Hip and Knee Arthritis
Dr. Sean Sutphen from "Illinois Bone and Joint" will join us and talk about both operative and non-operative treatments for hip and knee problems.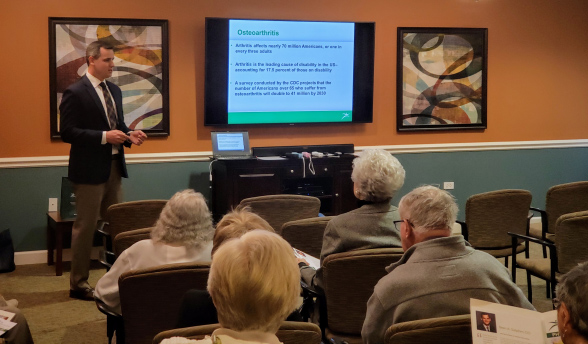 Dr. Sutphen is an Orthopedic Surgeon who was "fellowship trained" in hip and knee joint replacement and complex revision joint replacement. He also treats all aspects of musculoskeletal care (fractures, arthritis conditions, etc.).
Date: Tuesday, May 14th, 2019 at 7PM
Venue: The Lodge of Northbrook in the Great Room
Click here for more infomation.