Patient Testimonials
Recently had an outpatient total hip replacement and my patient is back to passions in life!
Ed was in great pain but got his life back quickly, thanks to outpatient hip surgery at IBJI. Having a desk job as a financial advisor for many years took its toll on Ed's hip and he started feeling hip pain. His leg would give out, and this led him to seek orthopedic care from Sean Sutphen, DO
Recently had a robotic total knee replacement and my patient is back in the game!
Recently had a robotic total knee replacement and my patient is back to playing tennis multiple times a week and completing 6 mile hikes through the mountains in the Cave Creek Preserve, outside Scottsdale.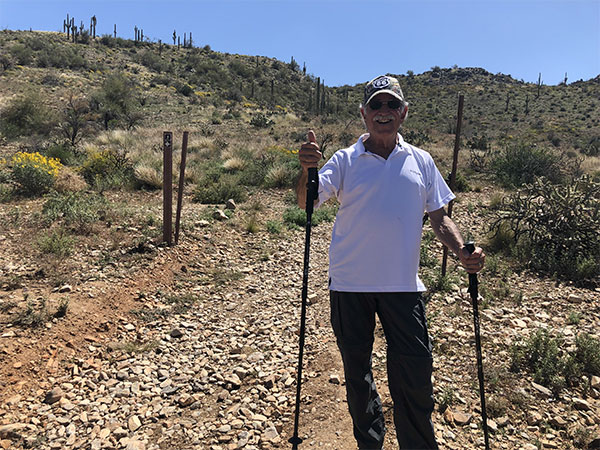 How George Went from Pain to No Pain After Robotic Knee Replacement
For George, 72, the discomfort in his knees had been going on for many years due to osteoarthritis. After multiple shots in each knee, which temporarily solved his pain problems, it was time for a permanent solution – robotic knee replacement surgery performed by Sean Sutphen, DO.
My patient is back to her hobby of cross country skiing after robotic total knee replacement
Less than one hour after an outpatient total hip arthroplasty at the surgery center!
I had full knee replacement 7 weeks ago and it went better than my wildest dreams. I was walking unassisted in a week, taking stairs normally in 2 weeks, and experienced very little pain post surgery. Seven weeks out my biggest problem is remember I recently had surgery! ( I still need to avoid carrying heavy things up stairs, for example]
My knee replacement by Dr. Sean Sutphen and his team was the best experience I could hope to have. From all of the pre-op appts. to the medicine overviews and details of what to take and what not to take to the post-op check-ins I was treated with welcoming and respect. Sean called me once after I wrote on the IBJI my chart site to make sure I understood what was needed. He again called me the night before to say he would see me in the morning and it would all be well. I can't recommend Dr. Sutphen highly enough, he is a caring and excellent doctor. I am 8 weeks post op and am walking well with great mobility.
Highly-skilled, personable, competent surgeon supported by a professional and caring staff. Highly recommended! I had an outpatient hip replacement and was at home within three hours doing stairs, unbelievable experience. Dr. Sutphen is truly amazing, he has changed my life!
Dr. Sutphen's skill as a surgeon and caring physician was outstanding, comprehensive, and way beyond what I would consider proficient. Every aspect of my hip replacement experience was excellent. It was a pleasure to partner with such a talent for my surgery, and recovery. I also enjoyed the care and attention provided by his entire team at IBJ.
Dr. Sutphen is just the BEST!! He is very Knowledgeable, Caring and has an excellent demeanor with his patients. I'm so trilled to have him as my Doctor. He listens to your issues and always has time for you. He never rushes the time he spends with you. He genuinely cares about his patients!! I have recommended him to my Sister for her Knee issues and she thinks as highly of him as I do. I will continue recommending him to all my friends and family. He truly is "One in a Million"!
In a word, Dr. Sutphen is the best! He is welcoming and comforting, not to mention the quality work he does. He replaced my right hip and it is fabulous. I am now at a point of coming back every 3 years for a check up instead of annually, although I am considering still coming annually just because I so enjoy seeing Dr. Sutphen.
Dr. Sutphen is the most professional and technically proficient doctor I've ever had the pleasure to be associated with. His concern for his patients is unparalleled. I am extremely happy with my results and would recommend him to anyone facing knee surgery.
Dr. Sean Sutphen is the epitome of the BEST of the BEST! I am a retired Registered Nurse (Operating Room) of 49 years so I knew what skills and "bedside manner" I was looking for. I researched many surgeons (read all the reviews on each) in my area and chose Dr. Sutphen for my total knee replacement. He was the first surgeon I visited and I knew right away he would be my surgeon. Procedure was performed with robotic-assistance and I couldn't be happier with my results. Had surgery on Tuesday and home on Thursday. Dr. Sutphen was the ultimate in patient education and I felt fully knowledgeable of each step of my care. He was extremely supportive and encouraging. His staff, especially Danielle, are amazing. She always confirmed that I had everything I might need to be comfortable. Physical Therapy was set up from start to finish. There was very little for me as the patient to arrange. Having said these things I am most grateful for having the opportunity to meet this truly amazing man.

~ Linda J Olbeira
Outpatient Robotic Partial Knee Replacement & my patient is back to his hobby of traveling
Just over six weeks out from an outpatient robotic partial knee replacement and my patient is back to his passions in life!
Just under two weeks out from a robotic-assisted total knee replacement and walking great!
Brigitte's left hip pain began a year and a half ago. She was able to manage it a little bit by getting injections. The injections helped with the pain and she felt good enough to take a planned trip to England with family. Since then, the pain became more noticeable. Keep reading to learn more about the route Brigitte took to relieve her pain and her hip replacement recovery time.
In January 2021, Lotti got her left hip replaced by IBJI's Dr. Sean Sutphen. Approximately 30 years ago, Lotti had her right hip replaced by another doctor. Overall, she knew what to expect but was excited to see the new changes to technology and quality of care provided by IBJI that she hadn't experienced before.
Just over three months out from an Outpatient Total Hip Replacement and back to his passion in life!
Dr. Sutphen did a fantastic job in surgery, which is enough in itself! I'm so happy with the results of my total hip replacement! In addition, Dr. Sutphen and his staff are AMAZING. I felt listened to and heard in the surgery planning. Post-surgery, Dr. Sutphen checked up on me personally both in the hospital and over the phone. . .constantly! I'm four weeks out, and he called to check on me yesterday! Moreover, his medical assistant, Danielle, is EXTREMELY capable, in close touch with Dr. Sutphen, and always answers questions or provides needed services to insurance or follow-up health care providers within a few hours. I could not be happier with the quality of my surgery and the support I've received both pre- and, especially, post-op. I look forward to returning to the active life I once enjoyed--and there seems, once recovered, there will be very few limitations!
Dr. Sutphen is truly a professional in every aspect of his practice. He treats is patients with respect and compassion. Every requirement that I have had has been met by Dr. Sutphen and his team.
Dr. Sutphen is probably one of the best physician's/surgeon's, that I have ever encountered in the course of my lifetime. Both his skill in his field and his bedside manner are phenomenal and would be very difficult for another surgeon to exceed such expectations.
I had knee replacement surgery now 8-weeks later I'm walking normally, no limp. A great Orthopaedic Surgeon and a wonderful Therapist made the difference. Dr. Sean is the best!

~ Art Norman
Excellent 'human' touch. Relates well with patient and patient's partner. Knee replacement was 5-star!
Dr. Sean Sutphen is a stellar surgeon and a compassionate gentleman. I could not recommend him more highly to anyone considering replacement surgery. I had a hip replacement and the entire experience was beyond my expectations. The doctor actually called me the night before my surgery to assure me that he would take excellent care of me! He then told me to get a good night's sleep and to come for surgery the following morning with a positive attitude. Five stars indeed!
Dr Sutphen reassured me that my full hip replacement surgery would go well and it certainly did! Dr Sutphen was so kind, warm and knowledgeable and he explained all of the details of the surgery. He called me the night before surgery to check in and again reassured me that he would take the best care of me. The surgery went perfectly and I was up and walking immediately. He even checked in with my physical therapist to see how my therapy was going. My mobility and ease in healing was unbelievable. I would only use Dr Sutphen. He has my utmost highest review.
Dr. Sutphen is an excellent Doctor! He is very understanding, kind and listens to all your issues. He really cares about his patients!! I have recommended him to my Family and now they see him too. He is just the BEST!!
Had a total right hip replacement Nov 22. Doctor Sutphen is the best. He said I would come through this surgery well. He has great bedside manner and he genuinely cares about his patient. I would highly recommend anyone that is suffering from hip pain to go see Dr. Sutphen. 3 weeks out and I'm feeling better then I have in 3 years.
Highly recommend him!!! Wonderful doctor - very kind and caring.
I had a total knee replacement and a total hip replacement by Dr. Sutphen this past year. He is an excellent physician and surgeon with both replacements doing great. I highly recommend him!
Really makes you feel comfortable and confident in the procedure. In my case, the first of 2 total knee replacements.
Best Dr ever! I am less than 2 months from my total knee surgery and I am almost completely back to normal movement activities and pain free!
Dr. Sutphen promised to take good care of me during my knee replacement and he did just that. Excellent Doctor and Surgeon.
Cannot say enough good things about Dr Sutphen. Very knowledgeable, inspires confidence, enthusiastic about his work, genuinely interested in his patients. Not to mention, a excellent surgeon.
Dr. Sutphen is amazing not only as a best in class Orthopaedic Surgeon, but as a human being. I have never had such a caring, compassionate and competent physician. He did my second knee replacement about a months ago and I am beyond grateful. Highly recommended.
I am three months post surgery for an anterior hip replacement. The procedure has been a total success. My pain level is zero. Mobility is where it was twenty years ago. I am a 66 year old male. I owe this all to Dr. Sutphen. His professionalism and surgical skills are the top of the line. He set aside all my concerns and fears. I recommend him to anyone considering this surgery.
I had a total right hip replacement by Doctor Sutphen in late November. And I have been under his care for about a year now. He is a great Doctor who truly understands his patients. From the first office visit where we talked about my pain and treatment options and up to today at a follow up appointment he has been excellent. I can't say enough about how well I feel and how confident I was in his work. I had a posterior operation which fit my body type per Doctor Sean. What's great is he specializes in both approaches. He is a true professional and a good person who cares about his patients. The Night before surgery phone call to help ease any anxiety to the post op phone calls to see how you are feeling. That right there is above and beyond and why I rate this experience A+. Thanks Doctor Sean for giving me a pain free hip.
The first time I saw Dr. Sutphen was for an emergency in November 2018. I had been in pain for five days and I was really scared. My left knee had been replaced by another doctor in the Banockburn practice two months before and it was doing great. However, the right knee had blown after the rehab. Dr. Sutphen immediately took x-rays and came in to tell me what I already knew. The right knee needed to be replaced. We relieved the pain with a cortisone injection. Then we had a talk. He spent a great deal of time with me. He listened. He answered my questions and was extremely supportive of my long relationship with my chiropractor which I found refreshing. Together we came up with a plan to get me through several trips. On July 29 he replaced my right knee. Rehab is moving along well (today is October2). The best thing about Dr. Sutphen is you come up with a plan together. He genuinely likes people and wants to help me live the life I want to live.
He explained what is wrong with my knees very well and what can and can't be done, He is very conscientious in follow up. He is a surgeon but looks for the best non-surgical options. He is one of the kindest friendliest doctors I have ever met and I am a senior.
Dr. Sutphen has the best bedside manner of any doctor I have seen. Extremely helpful and knowledgeable about my issues. Spends the time to discuss all issues with his patients.
Sean Sutphen's bedside manner is, literally, terrific. He visited at 6:40a the day after knee surgery to check on and comfort me. To my surprise, he came back 10 minutes later, wanting to unwrap the knee himself just to make sure everything was okay. Perfectionism in a surgeon is a good quality. The staff think he's great also.
Dr. Sutphen without question is one the finest Dr, Surgeon , I have encountered. From the day of our first meeting and now after the knee surgery, I am convinced I made the right choice, There not enough space to express what a great person/Dr. Sutphen, I would highly recommend Dr, Sutphen to anyone who may need knee replacement Will be having a second knee replacement early next year and there is only one Dr. I trust to preform this surgery.
Dr. Sutphen answered all my questions and allowed me to relax about my hip surgery. His staff was wonderful in scheduling me and letting me know everything I needed to along the way. Great job!
Dr. Sutphen accurately and quickly diagnosed my knee issues and ultimately performed surgery and my knees are feeling better than they have in many years. I highly recommend him.
Dr. Sutphen did an excellent job with my knee scope. Recovery was fast and painless!
Absolutely the nicest doctor I've ever had. He is also thorough and takes time. Would recommend him to everyone. The facility is excellent.
Yes I feel I am in good hands but forgot to ask about his wife who is expecting their 3rd child. Sorry we went to the wrong office and were very late. EXCELLENT RATINGS W/ALL 4 DEPTS. JOAN
Dr. Sutphen is awesome! The most caring, friendly, knowledgeable. excellent doctor I have ever met. At my first meeting with Dr. Sutphen, I knew immediately, he was the surgeon that I wanted to perform my knee replacement! And couldn't be happier!
To sum it up, Dr. Sutphen is the best! He listened to me displaying unbelievable empathy. My knee replacement went so smooth and cannot believe I didn't do it sooner. My family and I are very impressed with his level of care. I would recommend him to anyone.
Dr. Sutphen is the most caring , and wonderful doctor I have ever had, he cares about you; You have confidence in his suggestions.
Excellent surgeon with a great bedside manner. The best doctor/patient relationship I've ever had. Dr. Sutphen discussed everything about the procedure and was there the entire time for me.
I recently had both hips replaced by Dr. Sean Sutphen who, despite his youthful appearance is a highly qualified and professional surgeon.... the proof is in my drastically improved quality of life. a few short months ago I could barely walk.. and not at all without the aid of a cane. Now I'm mobile and improving all the time.
As important as his skills as a surgeon are,,it is his positive attitude and obvious sense of what is best for his patients that make him a great doctor and something of a standout in his field.
Both before and after the surgery Dr. Sutphen took time to explain the procedures and to make sure I was comfortable at every stage of this important and life changing event for me.
I wasn't surprised to see him before and after the operation at the hospital... but I was surprised when he called me at 8.00 o clock on the evening before surgery to reassure me that I was in good hands with his team of professionals. And I was.
And he's a nice guy
Dr. Sutphen answered all my questions, he genuinely seemed interested in me and took his time. I never thought I needed surgery but the MRI confirmed his suspiction. I am so glad I met him...I am not worried about having any future knee problems as long as he is my doctor :)
Dr. Sutphen is very caring and a true professional. My hip revision is doing great. I would recommend him to anyone needing this type of surgery. Thank you Dr. Sutphen.
Dr Sutphen is so wonderful! He took his time to explain everything with me & we came up with a great treatment plan. I'm very happy to be in his care. His assistant Lennie was wonderful. She's very thorough and I'm very impressed with her fast response to my calls.
Dr. Sutphen is truly amazing! He is very thorough, genuine, and was informative of the latest advancements. I had a total hip replacement done by Dr. Sutphen and I recovered very quickly. So grateful for him getting me back to quality of life I want.
I would highly recommend Dr. Sutphen for knee surgery. He treats the whole patient, not just the symptoms, and he explains what he is doing and why. Great bedside manner. I am back on the paddle court thanks to this great doctor.
The utmost professional doctor. Knee replacement was extremely smooth with him. Can't thank his staff enough for all being so helpful.
How can I thank you? Not just for your professional skills but for the thought and concern you displayed while treating me.
Write a review
If you're interested in submitting a testimonial for Dr Sean A. Sutphen, Please use the form below to do so.
Thanks!
Fields marked ( * ) are required